My boudoir experience started off with what was supposed to be my dream shoot.
I can't remember how I came across Niki and her women's empowerment group on Facebook, but I remember she was offering a portrait session that was gothic Halloween themed. I was stoked! As much as I was struggling with loving myself, and dealing with rapidly progressing illnesses, this was a dream come true for me! If you've known me even a little bit over the years, you will know I love all things dark and witchy. I was even able to bring my number one heart bunny Stormy to the season and had our photos taken together. What else could I ask for!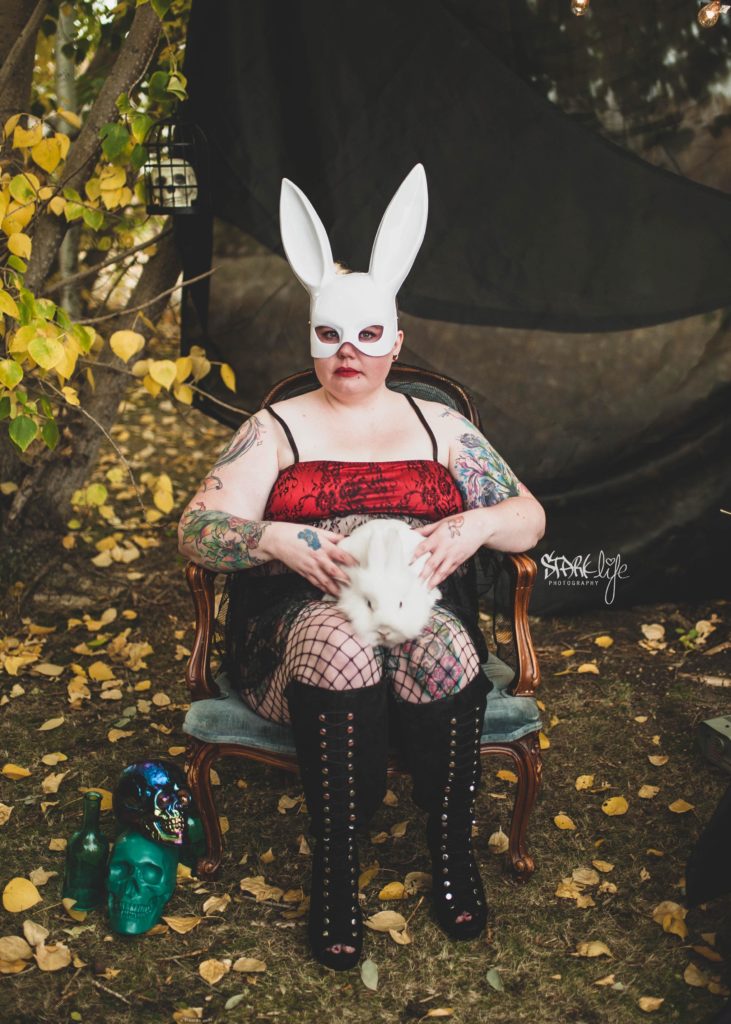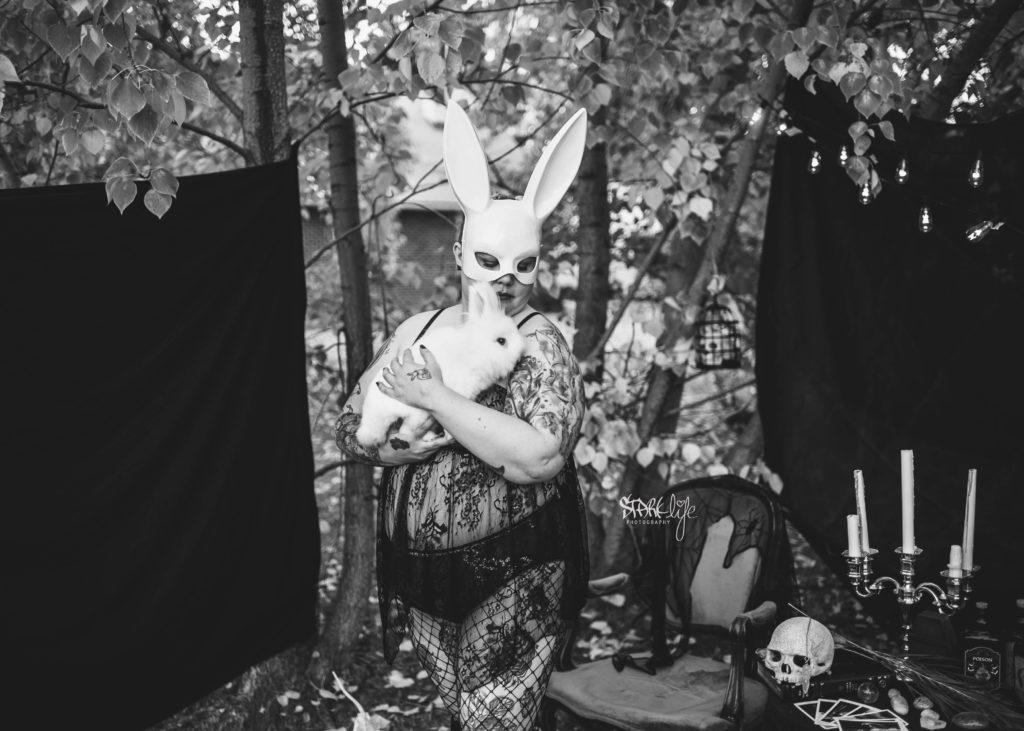 Before we even had the shoot, Niki was offering a gothic boudoir experience. Even better, she offered payment plans for her sessions. SCORE! Not only would I get to have my first boudoir shoot (something I thought would never happen in my lifetime!) BUT the shoot was on my birthday AND I could get an album of my photos for my long time boyfriend for Christmas! I can't remember being so excited.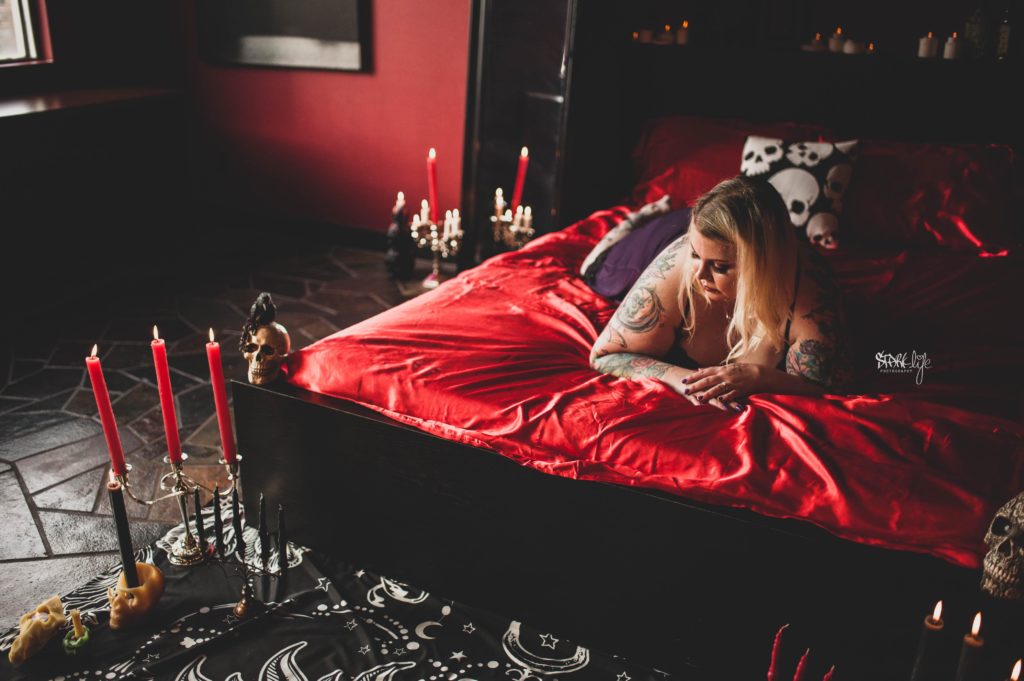 My very first session with the Halloween portraits went AMAZING! Niki and her team of brand ambassadors at the time (Kim, Rachel, and Aimee) made me feel like a goddess. I had never been so nervous and excited at the same time before. They cheered me on, helped me feel more comfortable with myself, and I appreciate them all so much for getting me out of my shell and allowing me to just have FUN and be myself.

A few weeks later the boudoir session came up and OH MY GOSH! If I thought I felt like a goddess before, I can't even express how amazing I felt during and after. I may as well have been a new person! And it's not even just the pampering with hair and make up, but the whole Starklife team has a way of making you feel like you're walking on clouds.
At my reveal session for both of these shoots I didn't even recognize myself. Who was this gorgeous human being on the screen. Holy crap that's me!! I was speechless! I had never seen myself in that way before. I have always been one to shy away from the camera, no matter the situation or occasion. I don't like looking at myself. I was too fat. My skin was too bad. I had weird scars and blemishes that most people would never dream of. But suddenly none of that mattered. I was in love. But with myself? That was foreign. But I couldn't WAIT to show my partner. I was exited for him to see me as I saw myself. I figured he would be over the moon!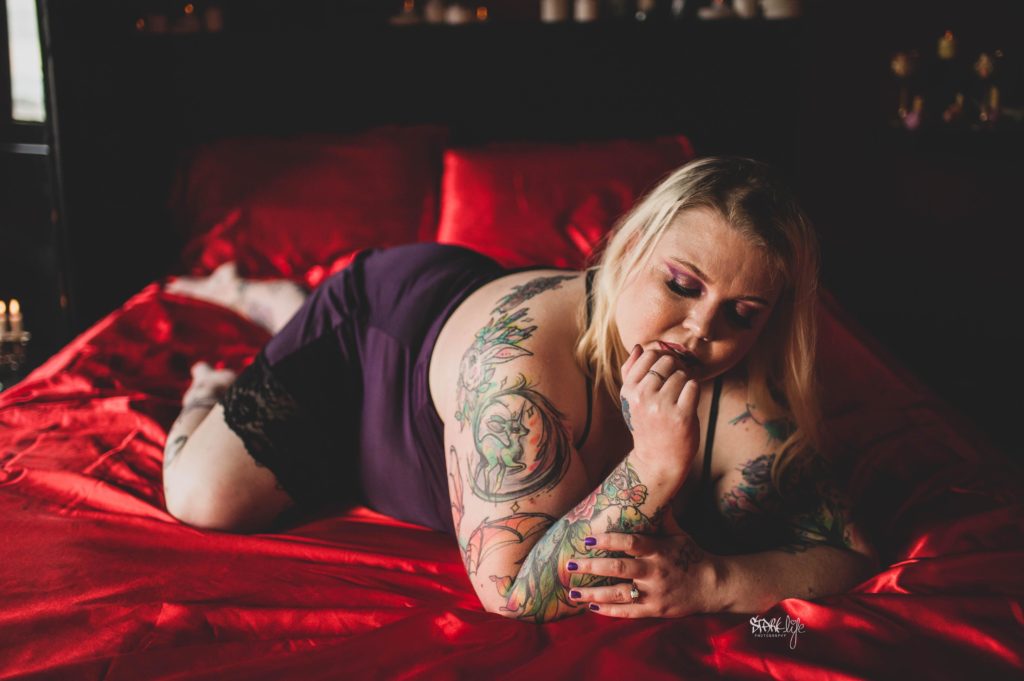 When I received my gallery from Niki of my Halloween portraits, I showed him right away. I clicked through all the photos, going slowly, grinning more and more after each photo. I was HOT! The ones with Stormy bunny were amazing. I felt confident and proud of myself.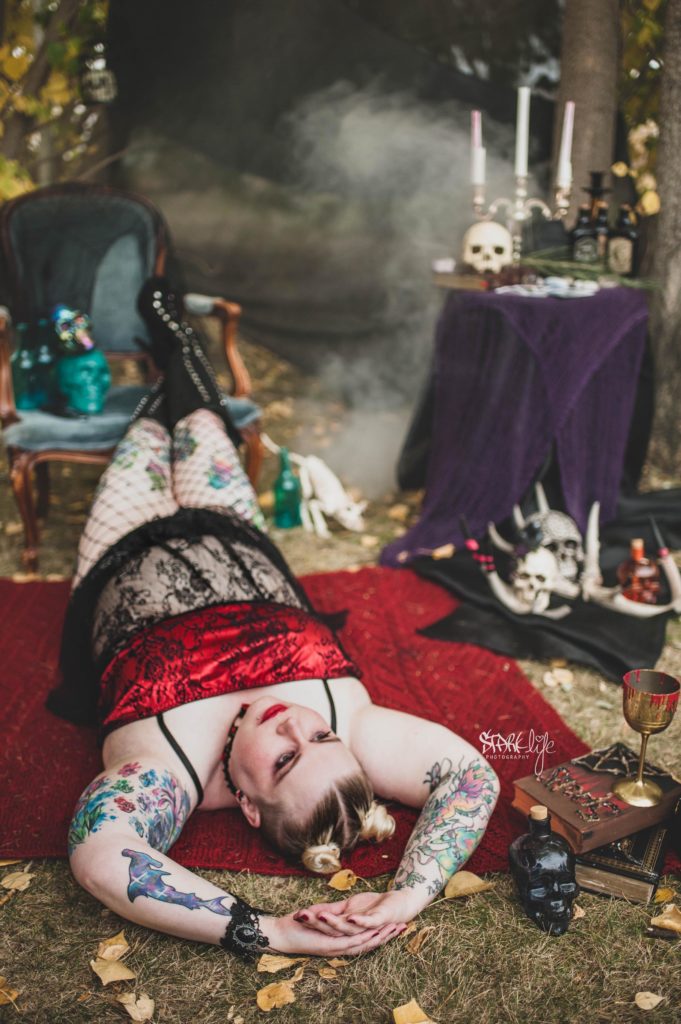 To say his response fell flat is an understatement…
The one and only comment I received was 'Well some of those are goofy. You're still my pretty lady though' That was it. My excitement, my confidence, my comfort with myself fizzled out in an instant. I didn't understand why he didn't see what I saw. I couldn't fathom why he couldn't see the same level of change and growth as I did. I just felt defeated. He never mentioned it again.
A few weeks later, I received my album and matted prints from my boudoir session. The items that were supposed to be his Christmas presents. The whole boudoir experience, while happening on my birthday, was focused on him. I had my hair and makeup done as he would have liked. My outfits were ones he would have enjoyed. Everything about it was geared towards what he would have liked or found attractive. It was all a gift for him after all! But after his response to my portraits (which were also styled to appeal to him) why would I want to give them to him?

It is now six months later and he still has not seen any of the shots from that boudoir session. I don't think I could have survived that type of reaction again.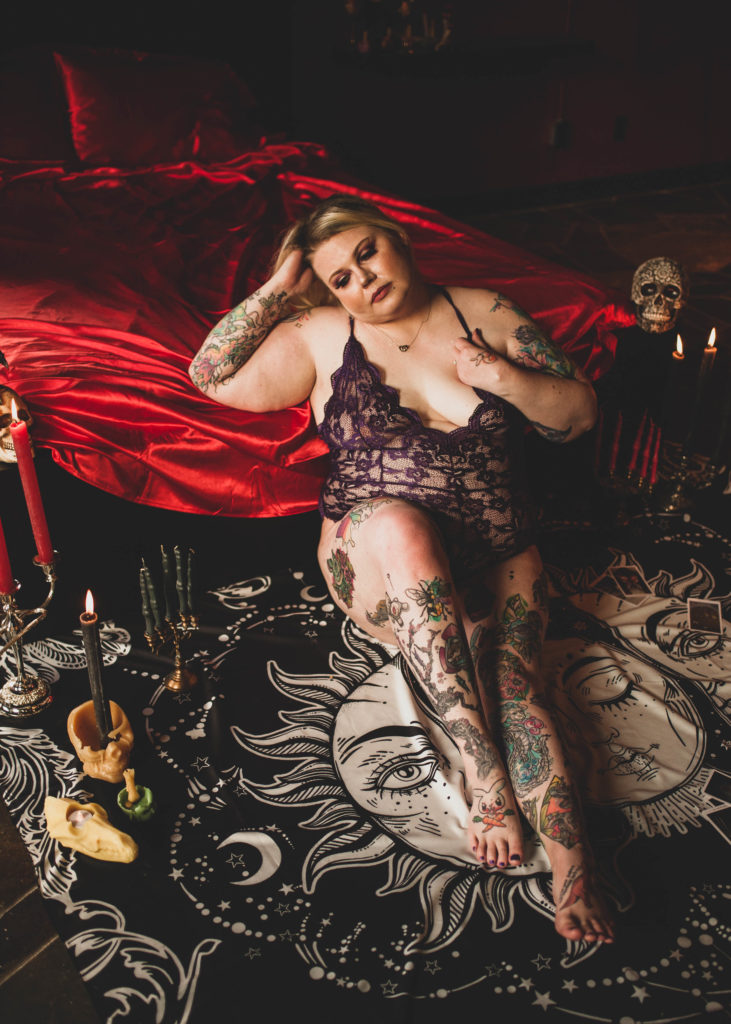 Fast forward to 2021 and Niki was offering another round of gothic boudoir experiences. This was it. This was my shot to do this RIGHT. You better believe I signed up. But this time was going to be different. This time was for ME.

My outfits. My makeup. My accessories. My hair. Literally everything about this session was for me. Down to the smallest most minute details. I had never felt better. The excitement and self love I had felt for myself during my last sessions was nothing compared to how I felt this time around. I was floating I was so elated. The day after that shoot I swore to myself that I would do more for myself. I was putting myself, my feelings, my self love above else. It was one of the best decisions I had ever made for myself.
Shortly after that life changing session, Niki opened her applications for Brand Ambassadors again and I was NOT missing out. I didn't submit an application for the previous round due to all of the renewed self doubt I felt after my spouses reaction to my Halloween portraits. Maybe I didn't look as good as I felt. Maybe I wasn't cut out for being a BA, or cut out for doing boudoir period.
If my own boyfriend who is supposed to love me unconditionally and be attracted to me didn't like my photos, why would anyone else!? Let me tell you. That is a scary state of mind.

Forget everyone else's opinions. Even the people who are the closest to you. Sometimes you are all that matters. You need to do what frees your own soul, no matter what anyone else says, or how they feel. This is your sign to do that photo shoot. To get that tattoo or piercing. To dye your hair that crazy colour, or shave it off if that's what you're feeling! Do what nourishes your soul. And do it for yourself, not anyone else.
---
---
You might also like
---